"The people that say the central banks are out of bullets, I think, come on guys, these guys are the greatest magicians in history"
-Brent Johnson
The US Dollar showed a lot of weakness over the summer months in 2020.
But don't mistake a temporary drop in the US Dollar index for the end of the currency – far from it.
After it's dramatic oversold position not seen since 2017 in terms of its Relative Strength Index (RSI), the greenback has come back roaring…
That rapid rise in the Dollar Index has had a humbling effect on Gold.
In the next chart you'll see that June 25th, 2020 signalled a turning point in the Gold vs DXY relationship.
You can see Gold and the DXY rallied and fell together until March when they began to move inversely. And in dramatic fashion since that June date…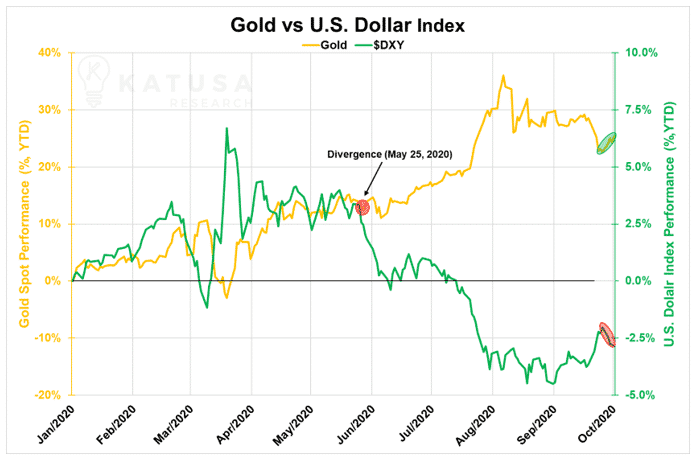 The amount of stimulus on its way is scary.
The new normal of negative rates is even scarier.
Never before has a globally connected economy gone through or witnessed such a mix of unknown ingredients.
This has a massive effect on your net worth… Your assets… Your ability to draw cash from the banking system… and even how you purchase gold and silver.
One thing's for sure…
There will always be a way to profit.
How do you protect your wealth? And where do you look to invest?
Brent Johnson on the Dollar Wrecking Ball and The Milkshake Theory
Today I'm releasing an exclusive interview with fund manager Brent Johnson.
For full disclosure, I have invested money in his fund. And none of this is investment advice.
In this video you'll see two guys talking shop like they would over a glass of wine.
Brent is a friend and I respect him and I'm doing this to share his insights because I believe people should expose themselves to smart people with original smart ideas.
You may disagree or agree with our opinions and outlook, but this will be well worth your time.
In this interview you'll hear:
The series of "Mini Crisis" that will happen and where it will start
Why he sees Q4-2020 as the Pivotal timeframe
How Negative REAL rates are going to be a MASSIVE issue
Where Brent has a significant amount of his money invested (Hint: It's NOT popular with the mainstream investment audience)
The Dollar Fakeout move and the end of the beginning – how much further the dollar can rise
Why Brent is "short the rest of the world"
Where he sees gold going over the next 6-12 months
The western countries with banking systems that could be in "major trouble"
How the Dollar trade will set up the "killer" commodities trade